Know About Tiruvannamalai Annamalaiyar Temple
Tiruvannamalai is a world renowned pilgrim centre located at the foot hills of Annamalai hills. It came to be built over a period of more than thousand years. Many kings particularly the Chola and Pandiya Kings. Apart from the King Krishnadevaraya in the 15th century.This temple city is about 80 kilometres away from Katpadi or otherwise known as Vellore. This temple can also reached from Chennai traveling to a distance of about 180 kilometres.
World Largest Shiva Temple (Arunachaleswarar Temple) 
Shiva and Parvathi are the two deities that are worshipped here at Annamalaiyar temple. Shiva is prayed here in the form of Agni. One of the panchaboothas that is used as an element to incarnate this earth or universe.
Shiva is known by devotees as Annamalaiyar or . And this is believed to be the largest temple in the world dedicated to Shiva. The history of this Annamalaiyar temple dates back to thousand years. Mention has been made in the Thevaram and Thiruvasagam, both great works in Tamil.
The greatness of this Arunachaleswarar temple was glorified through poems written by salivate poets Appar, Sundarar, Manickavasagar, and Sambandar. This is also well known as the Padal Petra Sthalam in Tamil besides few more temples in Tamil Nadu that enjoys this status.Many kings of those periods have contributed their share to the growth and welfare of this Arunachaleswarar temple. Construction was going on at a steady pace over the last thousand years indicating its importance and patron received by this temple from the public. It has continuously expanded due to the initiative of the kings and the public contribution.
Know About Tiruvannamalai Temple Gopuram?
The Arunachaleswarar temple has a unique structure with a 66 metre high gopuram consisting of thirteen storey tier. The temple has seven prakaras and nine gopurams. The tallest gopuram was built by king Krishnadevaraya in the fifteenth century and it is believ

ed to be the second tallest gopuram in the world. This tower is called as Rajagopuram located on the eastern side. Arunachaleswarar temple is spread over 25 acres of land. Out of the seven prakaras, the first two prakaras is said to be built by the Pandiya kings and the remaining prakaras by the Cholas and other kings. It has two big tanks named as Brahma Theertham and the other as Siva Ganga Theertham. It has a massive thousand pillar hall built by the ancient kings. In the thirteenth century the Hoysala kings from Karnataka built some sannadhis and prakaras in the temple.
The most significant factor in this temple is that lord Shiva is worshipped in the form of fire. Every year during the month of Karthikai, the flame is lit on the hill top and this ritual is witnessed by millions of devotees who gather here from all corners of the world. This festival is widely called as Karthikai Deepam in Tamil. Devotees consider greatly auspicious to witness this fire every year since Shiva or Annamalaiyar is prayed as Agni at Tiruvannamalai.
Tiruvannamalai Annamalaiyar in Form Fire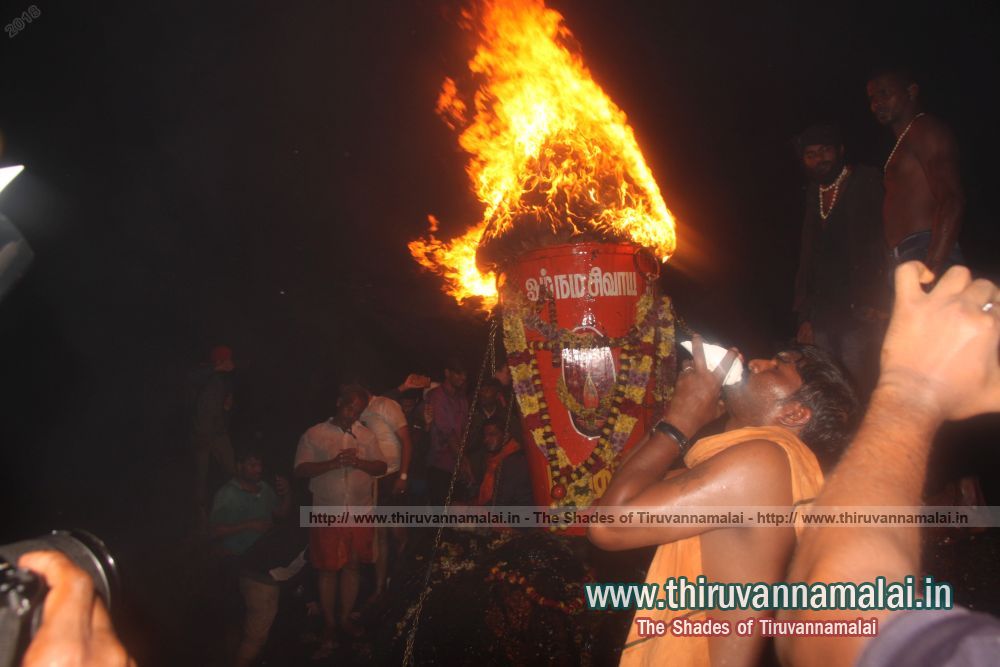 Shiva is also called as Annamalaiyar and Parvathi as Apitakuchambaal by many of their devotees. This temple is also considered unique since fire being one of the five elements of Panchabootham is attributed to this Arunachalaeswarar temple and Shiva takes the form of this fire. The other elements that falls under the Panchaboothas are space (Akash), water (Jalam), wind (Vayu), and earth (Bhoomi) Each of these five elements of Panchaboothas are associated to different places of worship in Tamil Nadu and Andhra. Water is associated with a temple in Thiruvanaikaval, Space is attributed to a temple at Chidambaram, Earth at Kanchipuram and Wind at Sri Kalahasthi in Andhra nearer to Tirupathi.
At Arunachaleswarar age old traditions and formalities are still in vogue. When it relates to worship the local community at Tiruvannamalai are involved in the rituals. They are the temple priests, administrators, temple staff, trustees, palanquin bearers, guards, bhajan singers, musicians and other important artisans.The ceremony includes bringing the Ganga theertham on the elephant from the holy tank located at the southern part of the town. This water is brought through the Thirumanjana Gopuram on the south side. This water is utilized for cleaning the second prakara entrance.
Then Shiva and Parvathi are woken up and Arunachaleswarar is taken on a procession to the main temple and Parvathi is taken to Unnamalaiamman temple. Then the first pooja starts every day in the morning and conducted at regular intervals and timings for a total number of six times a day.All devotees go round the hill and it is called Pradakshina and it is usually done during the full moon day (Pournami). About five lakh devotees go round this Annamalai hill every full moon day and it around 13 kilometres in distance. This practice of doing Pradakshina regularly helps the devotees to stay spiritually, mentally and physically fit.
Tiruvannamalai Arunachaleswarar Temple Address & Contact Number
Executive Officer/Deputy Commissioner
Arulmigu Arunachaleswarar Temple
Thiruvannamalai – 606 601
Email : arunachaleswarartempletvm@gmail.com | arunachaleswarar@tnhrce.org
Tel : 04175 – 252438
Tiruvannamalai Arunachaleswarar Temple Chithirai Vasantha Utsavam Festival Day 7 - 2019 16.4.2019 - Tiruvannamalai Arulmigu Arunachaleswarar Temple Vasantha Utsavam Festival Seventh Day Lord Arunachaleswarar get...
TIRUVANNAMALAI ARUNACHALESWARAR TEMPLE CHITHIRAI VASANTHA UTSAVAM PICS DAY - 6 Tiruvannamalai Arulmigu Arunachaleswarar Temple Chithirai Vasantha Utsavam 6th Day Periyanayagar got rise in Vettiver Panthal...
Tiruvannamalai Arunachaleswarar Temple Chithirai Vasantha Utsavam Day 5