Seshathri Maharishi Ashram - Tiruvannamalai
Seshadri Swamigal was born in the year 1870 at Kancheepuram. It is believed that he went to Thriuvannamalai when he was in his teens. He was a ardent devotee of Goddess Shakthi. Unlike Ramana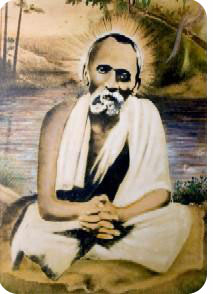 Maharishi who was a staunch follower of Lord Arunachaleswarar. They were good friends even though their way of life was totally different from one another. Seshadri Swamigal's behavior was strange to the devotees. He would never sit or sleep in one particular place and never had any permanent home of his own. Most of his time was spent roaming the streets of Tiruvannamalai. He used to sleep whenever it was comfortable to sleep in a place. Never had any organized daily routine to follow. Always ate food from roadside shops without paying them any money. The shopkeepers thought it was a good omen if Swamiji visited their shop to eat. There would be heavy sales in that particular shop where Seshadri Swamigal ate that day. Seshadri Swamigal would never take bath for years together. But all the while likes to enjoy getting himself fully drenched in the rain. He stands still even in heavy downpours and would get indoors only when it stopped completely. Some times he would sing and dance in the rain in front of his devotees without any reservations. He lead life like a siddhi and would foretell things that would happen in future. He even reads people's mind by observing them quickly. When they came to him for blessings, sometimes he would run away from them. He does not like devotees touching his feet and falling at his feet. At times pilgrims are scared to go near him, since he would abuse and throw stones at them. He mostly avoids people around him and like to sit in a lonely place talking to himself like a insane person. Sometimes he would touch the sick persons and his touch had a miraculous power to cure all ailments whom so ever he touched.
This power is believed to be inculcated from the Goddess Shakthi since he was a strong devotee of her. He was equally blessed with miraculous power of Lord Arunachaleswarar and Lord Rama. It is believed Mahan Seshadri was a gift of goddess Kamakshi. Since he was born to the couple Varadharajan and Maragatham after being childless for long years and was born after performing severe penance to Goddess Kamakshi. Hence he was considered a boon offered by Kamakshi.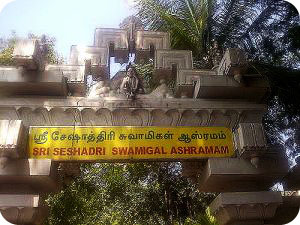 was considered a divine child from the beginning. He also proved them right by starting to do poojas from his early childhood. One incident made him more popular in Kancheepuram when Seshadri was only a four year old child. Little Seshadri was walking beside his mother in the temple street. As he was passing by the shop he picked up a idol of Krishna kept there in the shop for sale. Seshadri's mother refused to buy him the idol, but Seshadri was stubborn to own it. The shop keeper seeing this situation, allowed Seshadri to take the Krishna idol free. The next day when Seshadri was walking with his mother passing by the same shop to the temple, the shopkeeper recognizing the boy felt he was a golden child with divine powers. And he spread word about his power to every one since the whole lot of idol were sold the previous day when he touched the idol of Lord Krishna at his shop. From then on every body called him a boy with golden hand and with extraordinary divine powers.At the fifth year Seshadri was sent to Veda patasalai by his parents. There he showed keen intelligence to grasp various vedantas and mantras. And by the time he was fourteen he learnt much at this Patasalai. His father passed away when Mahan was only fourteen years old. There after his uncle took to Vazhur. Here Swamiji completed his learning and was a master in Upanishads, Vedas, Gita,Vyakarama and Nyaya besides astrology and music. And when Mahan was seventeen his mother also died and his uncle solely took care of him and his brother. Seshadri began doing severe pooja and sat for long hours with the pictures of goddess Shakthi, Lord Arunachala and Lord Rama. When Seshadri was nineteen he became a disciple of Sri Balaji Swamigal who inducted him to sanyasin. Seshadri after traveling many holy cities and towns in Tamil Nadu reached Tiruvannamalai, the abode of Lord Arunachaleswarar.
Tiruvannamalai Arunachaleswarar Temple Chithirai Vasantha Utsavam Festival Day 7 - 2019 16.4.2019 - Tiruvannamalai Arulmigu Arunachaleswarar Temple Vasantha Utsavam Festival Seventh Day Lord Arunachaleswarar get...
TIRUVANNAMALAI ARUNACHALESWARAR TEMPLE CHITHIRAI VASANTHA UTSAVAM PICS DAY - 6 Tiruvannamalai Arulmigu Arunachaleswarar Temple Chithirai Vasantha Utsavam 6th Day Periyanayagar got rise in Vettiver Panthal...
Tiruvannamalai Arunachaleswarar Temple Chithirai Vasantha Utsavam Day 5
Tiruvannamalai Chithirai Vasantha Utsavam Featival 2019 - Day 4 13.4.2019 - Tiruvannamalai Arulmigu Arunachaleswarar Temple Vasantha Utsavam Festival Fourth Day Lord Arunachaleswarar - Third Prakaram...
Tiruvannamalai Arunachaleswarar temple Chithirai Vasantha Utsavam Day 3 - 2019 12.4.2019 - Tiruvannamalai Arunachaleswarar Temple Vasantha Utsavam third Day Periyanayagar Somaskanthar Third Prakaram swamy got rised...