Tiruvannamalai - The Shades of Thiruvannamalai
9th April 2019 – Chithirai Vasantha Utsavam Festival Panthakal @ Evening 4:30 to 5:30 pm in Tiruvannamalai Arunachaleswarar Temple.
Tiruvannamalai Chithirai Vasantha Utsavam - 2019
In Tiruvannamalai  Arunachaleswarar Temple Chithirai Vasantha Utsavam Festival is celebrated very grandly every year in tamil month of Chithirai. read more about festival details…
Chithirai 1 - April 14,2019 - Tamil New Year - Thiruvannamalai
Know About The Rare Event to be Held in Tiruvannamalai This Month?
April 14,2019 – In Tiruvannamalai  Sunlight Falls on Ner Ethir Annamalai Lingam in Girivalam Path.A Rare Event Held Once in a year For Few minutes.
Thiruvannamalai Chitra Pournami Girivalam 2019
Lord Arunachaleswarar temple has the biggest walking path around the Annamalai hill. Devotees are expected to go girivalam around the hill barefooted and get the darshan of all the Eight lingams to get the full benefit and the blessings of the lord.  Tiruvannamalai it is great place to go for girivalam during every full moon day of a month & Also during the Annual Karthigai deepam day. read more…
Thiruvannamalai - The Shades of Tiruvannamalai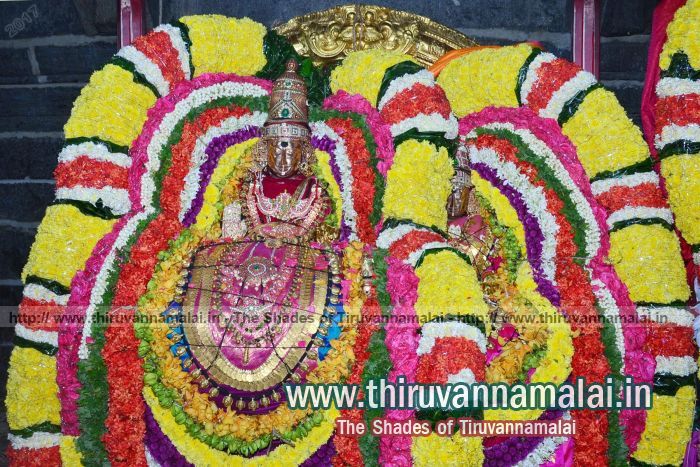 Tiruvannamalai is a world famous temple town in Tamilnadu which is synonym to deepam(fire). Here Shiva (Annamalaiyar – Arunachaleswarar) is worshipped in the form of fire.This Temple is one World Famous Shiva temple in India.
How to reach Thiruvannamalai
This temple city is located about 194 km from Chennai or 86 km from Vellore by road. read more…
Arunachaleswarar Temple - Thiruvannamalai
This temple is built around 750 A.D. period (details As per Sculptures) The very biggest temple in India dedicated to Lord Arunachaleswarar (Shiva).This Shiva – Parvathi Arunachaleswarar temple has a 66 metre high gopuram that comprises of 13 storeys or tiers.Here Shiva is known as Annamalaiyar in the form of Lingam and Parvathi Devi known as Apitakuchambal. This term Annamalaiyar is derived from the name of the hills Annamalai that means an inaccessible mountain. read more…